You are here
PRESIDENT MUSEVENI DONATES TRACTORS TO HEALTH WORKERS AND TEACHERS IN ADJUMANI.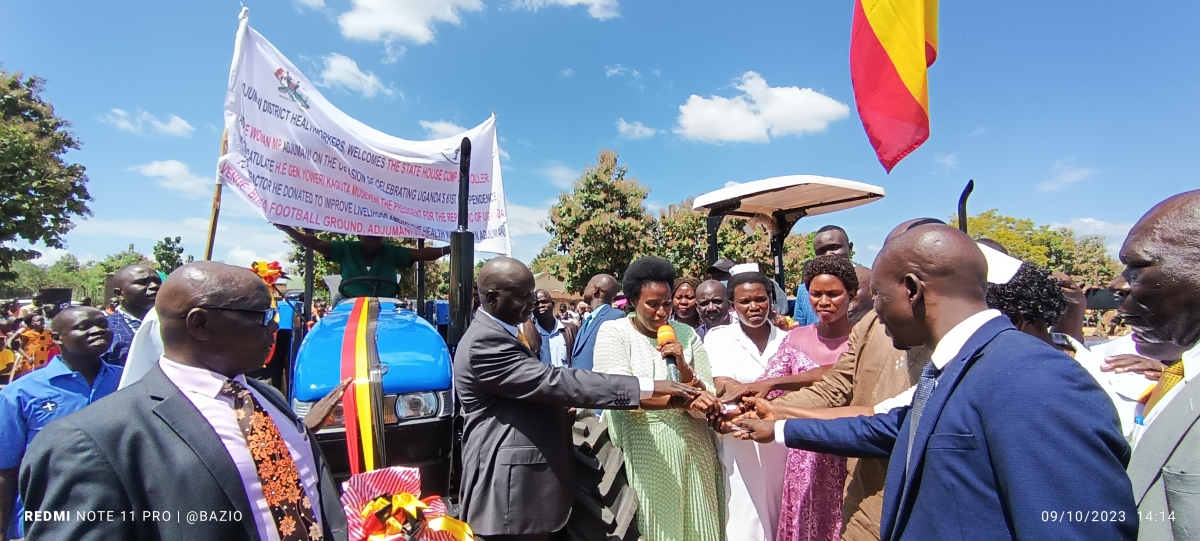 By Bazio Doreen.
The State House Comptroller, Ms. Jane Barekye, has handed over 2 tractors, harrow discs, and ploughs to support the livelihood of teachers and health workers in Adjumani District who undertake commercial agriculture.
While handing over the farming equipment during the 61st Independence Day Celebrations for the district at Biyaya Primary School, Ms. Jane said that these had been lobbied by the Chairperson of the Parliamentary Committee for Presidential Affairs, who also doubles as Adjumani District Woman Member of Parliament, Hon. Ababiku Jesca.
She then congratulated the people of Adjumani district for having such a dedicated leader who has been following up on different requests made to the President and pledges made by the Foundation of Honor.
Hon. Ababiku who was also the Chief Guest at the celebrations said that the tractor had been donated not only for the target group to become a source of cohesion but also most importantly as a challenge to be exemplary.
"You and I have been challenged to become role models. You must love your country, your people, and yourself. Let these tractors not be a source of conflict" Hon. Ababiku observed.
On his part, the District Chairperson, Hon. Anyama Ben, urged them to manage the tractors well because they have a bad reputation for managing communal resources. To the State House Controller, she said the district leadership was grateful for the gesture but it is insufficient.
"Adjumani has over 1,000 teachers and about 500 health workers. We have received the tractors very well and thank you but we are demanding more." Hon. Anyama observed.
As a way of appreciation, the health workers and teachers presented a Shield with a bow and arrow and a goat to the President while the Woman Member of Parliament was given 2 goats and a chicken.
Meanwhile, Hon. Mamawi James tasked the State House Comptroller to remind the President about a pledge he made while launching the Presidential Industrial Hub in Olia. President Museveni has made many pledges over the years during his occasional visits to Ma'di Sub Region but some remain unfulfilled.